Home
>
ISO 1800™

Isochrysis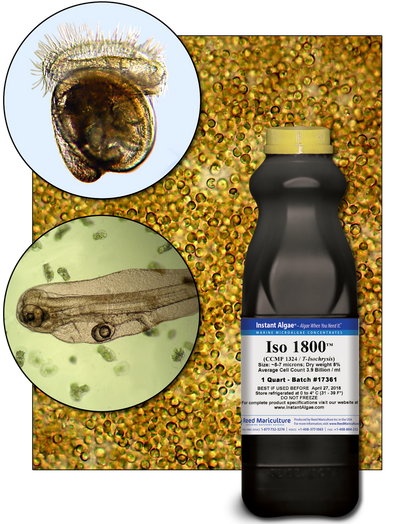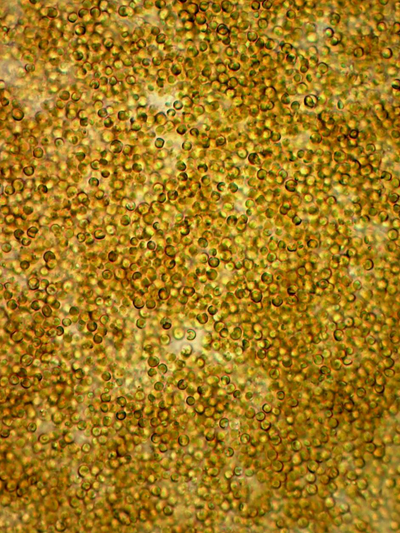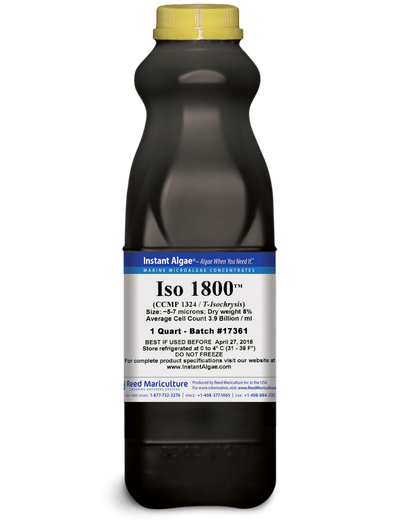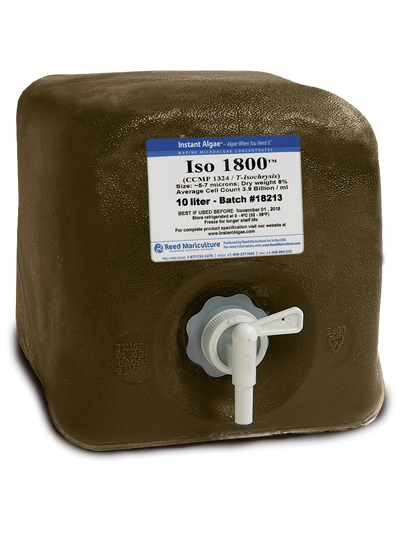 ISO 1800™
Isochrysis
ISO 1800™ is a refrigerated, whole-cell concentrate of Isochrysis microalgae which is very high in DHA, phospholipids and carotenoids. Strain: Tisochrysis lutea, CCMP1324
---
Product Description
Applications & Benefits
Directions & Feeding
Storage & Technical Data
Product Description
Applications & Benefits
Directions & Feeding
Storage & Technical Data
Refrigerated Isochrysis For Rotifer Enrichment and Greenwater
Refrigerated Isochrysis For Bivalve Larvae, Spat and Broodstock
ISO 1800™ (Tisochrysis lutea) is a refrigerated, whole-cell concentrate of Isochrysis micoralgae that will enrich rotifers and maintain the DHA/EPA ratio of your rotifers in larval tanks.  High in carotenoids and phospholipids. Strain: Tisochrysis lutea, CCMP1324
ISO 1800™ is a refrigerated, whole-cell concentrate of Isochrysis micoralgae. Iso 1800 is very high in DHA and carotenoids (Strain: Tisochrysis lutea, CCMP1324).
DIRECTIONS:
TYPICAL FEEDING RATION:
Greenwater:
Greenwater feeding rates are often correlated with rotifer stocking density. Optimal greenwater density ranges from 16,000 cells/ml to 80,000 cells of ISO 1800 per ml. This is equivalent to feeding Nannochloropsis at 2ml/1,000 liters to 10ml per 1,000 liters per feeding, fed 2 to 6 times a day
Dose
(ml / 1000 liters)
Cells/ml
Light
4.5
16,000
Heavy
20.0
80,000
Feed 4-6 times per day
Rotifer Enrichment:
Feed rotifers for 24 hours from the table below. Divide the feed into 4–6 feedings.
Iso 1800 can be used as a stand-alone enrichment or an enrichment supplement.
100% ISO 1800
enrichment
25% enrichment
supplement
10% enrichment
supplement
Iso 1800/
million rotifers
4ml/million rotifers
1ml/million rotifers
0.4ml/million rotifers
Packaging
1-quart bottle, 1-liter bag, 10-liter cubitaner®
Storage
4-month shelf life when refrigerated
Do not freeze
Physical Properties
Appearance
Viscous, brown concentrate
Algal cell size
5 - 6 microns
Cell Density
4.1 billion cells/ml
Algal Bioma
80g dry Biomass/L
Ingredients
Phototrophically grown microalgae and salt water
Composition of Dry Algal Biomass
Protein
47%
Total Lipids
19%
DHA
10.2%
EPA
0.9%
Ara
0.6%
Carbohydrate
24%
Ash
10.0%
Composition of Liquid Product
Protein
> 3.7%
Lipids
> 1.5%
Carbohydrate
> 1.9%
Ash
< 8.0%
Moisture
< 85%
Microbial Specification
Coliform Bacteria
2 <0.3 mpn/mL
Salmonella
Negative
Known pathogenic marine bacteria
Negative
Customer Reviews
---
Very good microalgae, with excellent results