Home
>
FISHGUN L2 - LIQUID FEED DISPENSER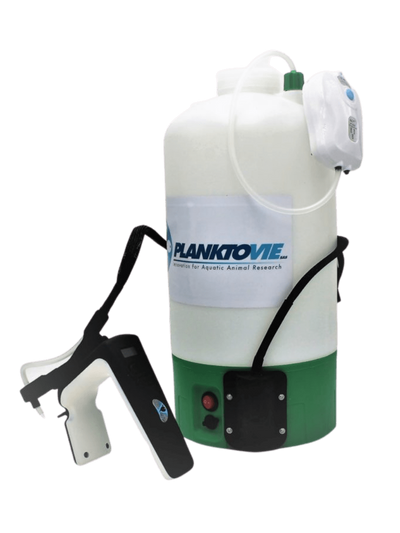 FISHGUN L2 - LIQUID FEED DISPENSER
The FISHGUN L2 is a semi-automated liquid feed dispenser specially developed for aquatic facilities and aquaculture nurseries. See info below for FREE SHIPPING!
---
We are happy to offer FREE SHIPPING for FishGun feeders (US only). To obtain free shipping at checkout, please purchase FishGun feeders separately from other RM products.

Please note that our International shipping options for this item are limited so please contact us for a custom quote for shipping to your country.
Product Description
Semi-automated dispenser for live zooplankton
Developed by the Sorbonne University and Planktovie, the FISHGUN L2 is a semi-automated live feed dispenser (Artemis, Rotifers, etc.). This laboratory equipment has been designed to facilitate the feeding of aquatic models (e.g. zebrafish) by zootechnicians in aquatic facilities or hatching nurseries. It complements the FISHGUN D2 which was created for the distribution of solid feed (granules, powder, etc…).
We use our know-how to constantly improve the products we market. This second version has an improved design, better accuracy and is adaptable to all types of aquariums known on the market.
It is composed of :
An

 

ergonomic handle

 

for an easy and effortless use;
A digital display for a

 

better control of the operations;
A technological system to deliver live food (rotifers, Artemis,…) thanks to the activation of a pump to collect it, which is connected to an 8-litre tank. The living plankton inside the tank is

 

continuously homogenized

 

thanks to an air pump;
An induction charger for

 

greater safety and robustness;
An

 

RFID scanner

 

identifying the aquariums to know the number of fish present, and thus deliver the right amount of feed according to the number of fish in each tank;
An extension system at the level of the hose support allowing the device to adapt to the main brands of aquariums on the market (Aquaneering, Techniplast, Pentair);
Feeding your fish is simplified. With the FISHGUN L2 in your hands, you will be able to :
Improve the

 

accuracy

 

and

 

reproducibility

 

with which you feed your fish;
Save time

 

to perform operations;
Reduce the

 

musculoskeletal

 

disorders

 

of zootechnicians;
Have a versatile solution to feed your fish at

 

all stages of their development.
Related products
---
These are products that we think would complete your purchase.