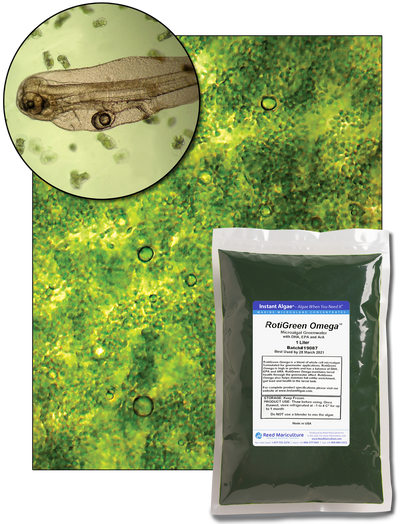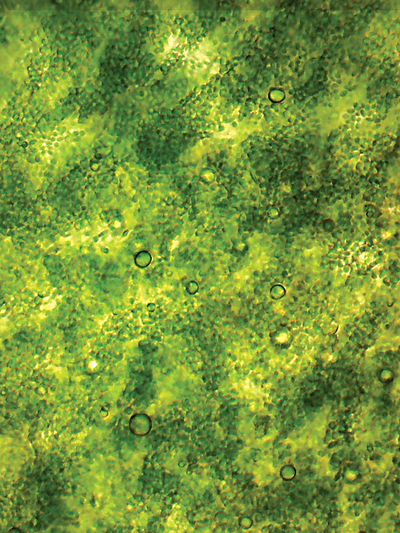 ROTIGREEN® OMEGA
A frozen, whole-cell greenwater microalgae concentrate designed to provide greenwater while maintaining enrichment of rotifers in the larval tank. High in carotenoids and phospholipids. 2-year frozen shelf life with a 3-week refrigerated shelf life
---
Product Description
Applications & Benefits
Directions & Feeding
Technical Info
Product Description
Applications & Benefits
Directions & Feeding
Technical Info
Frozen Microalgae for Greenwater with DHA enrichment Enrichment
RotiGreen Omega™ is a frozen, whole-cell greenwater microalgae concentrate designed to provide greenwater while maintaining enrichment of rotifers in the larval tank. High in carotenoids and phospholipids. 2-year frozen shelf life with a 3-week refrigerated shelf life.
Directions
Defrost frozen RotiGreen Omega slowly in a refrigerator overnight. RotiGreen Omega can be poured directly into the larval tank, but pre-diluting. (Note: 10 liter Cubitainers and cases may require 2 days defrosting)
Mixing and screening are not necessary. DO NOT BLEND; it is unnecessary and may damage the algae cells.
Feed according to the table below. Adjust dosage to meet the needs of your hatchery and larvae
Typical Feeding Protocol
Greenwater
Greenwater feeding rates are often correlated with rotifer stocking density. Optimal greenwater density ranges from 125,000 cells/ml to 625,000 cells Nannochloropsis per ml. This is equivalent to feeding Nanno at 2ml/1,000 liters to 10ml per 1,000 liters per feeding, fed 2 to 6 times a day. RotiGreen Iso and RotiGreen Omega are less dense and require more paste. The rotifers stocking densities in the examples above were 2 rotifers/ml and 15 rotifers/ml, respectively.
Feed 2-6 times per day
| | Dose (ml/ 1,000 liters) | Cells/ml |
| --- | --- | --- |
| Light | 2.2 | 125,000 |
| Heavy | 11.0 | 625,000 |
Rotifer Production
* Feed rates based on 165 micron l-type rotifer with a mass of 0.18g dry weight/million rotifers
Continuous
Feed rate: 2ml/million rotifers – use rotifer count after harvest
Typical harvest is 35-40% per day
Feed 4-6 times per day
Feed continuously for best results
Divide daily feed rate by number of feedings
If you harvest more or less rotifers per day, adjust feeding according to the table below
| Harvest Rate | Feed / million rotifers (ml) | Rotifers produced per liter Nanno 3600 |
| --- | --- | --- |
| 25% | 1.2 | 320 |
| 35% | 1.9 | 320 |
| 50% | 3.4 | 320 |
Batch Production
Feed rate: 2ml/million rotifers
Feed 4-6 times per day or continuously
Divide daily feed rate by number of feedings
Feed continuously for best results
For faster or slower growth rate, use table below
Batch Production Systems
Rotifer Density (per ml)
Nanno 3600
(feed per day per million rotifers)
Day 0
Day 1
Day 2
Day 3
Rotifer Harvest
(per liter of feed)
Growth Rate
(per day)
1.4 ml
500
706
996
1406
320 million
41%
2.0 ml
500
795
1264
2010
320 million
59%
2.9 ml
500
9910
1656
3013
320 million
82%
Packaging
1-quart bottle, 1-liter bag, 10-liter cubitaner®
Storage
2 years shelf life when frozen
3 week refrigerated shelf life after defrosting
Physical Properties
Appearance
Viscous green or brown Liquid
Cell Size
1.5 - 10.0 microns
Cell Density
~57 Billion cells per ml
Algal Biomass
170g Dry Biomass/L
Composition of Dry Algal Biomass (Typical)
Protein
55.5%
Lipids
20.3
DHA (% of lipids)
22.1%
EPA (% of lipids)
17.1%
ARA (% of lipids)
2.7%
Carbohydrate
17.1%
Ash
4.5%
Composition of Liquid Product
Protein
> 10.0%
Lipids
> 3.4%
Carbohydrate
> 2.9%
Ash
< 5.0%
Moisture
< 80%
Microbial Specification
Coliform Bacteria
2 <0.3 mpn/mL
Salmonella
Negative
Known pathogenic marine bacteria
Negative
Customer Reviews
---
5Stars for Rotigreen Omega and 5Stars+ for Customer Service
I had an unusual situation with needing items from Reef Nutrition and Reef Mariculture while using a gift card and Customer Service made it an easy transaction!
If your rearing clowns, do it like a pro
I did a tremendous amount of research into the green water process for my first time trying the rear clowns as soon as I saw my clowns starting to have eggs on a regular basis, when I came across this I knew I found gold. Unlike trying to make green water with phyto which eventually fouls this has an ammonia blocker that prevents the water from fouling… well at least not too bad, I am happy to say on my first try to reared about 55 clowns to about one inch over about 4 months and sold them to my LFS for $10 credit per clown. Got some nice corals in return lol.